Workforce Leadership and Development
Prepare to take the LEAD in your Workplace...
The Workforce Leadership and Development concentration provides a program that links business, finance, information technology, education, work, curriculum, and training to improve competitiveness within the workforce. This program is designed to work with all industries and capitalize on a student's' goals and content experience and provide the necessary workforce leadership and career skills needed to LEAD, educate and improve their employees and for personal skill growth. As a student, you will learn business, leadership, personnel, finance, information technology, education and training skills as they relate to the adult learning. Leadership and Development skills will focus on building your skills as a student and preparing you and others to participate in the multinational marketplace as productive leaders, workers and consumers. The employment outlook for this concentration is strong. Students can build on their current skills and progress in their current employment, begin an entrepreneurial venture or explore new career pathways.
This program is transfer-friendly. Transfer students or students who have completed Community College courses related to a specific skill area should contact the program director to determine if these courses can count toward a program of study at Appalachian. Up to 24 hours of non-UGETC (typically non-transferable hours including Military credit offered by the university) may be transferable to this program for the Career Content and Elective requirements. Contact the Program Director for more information.
If you can't do the entire degree, consider adding the Workforce Leadership and Development MINOR to your current program of study.
---
Program of Study
General Education Requirements (44 Hours)
Career Content Concentration (21 Hours)
(Coursework required in a specific content area and must be approved by advisor.)
Career and Technical Education Core Requirements (10 Hours)
Workforce Core Requirements (27 Hours)
Business Foundation Requirements (18 Hours)
Electives (3 Hours)
Total Required (120 Hours)
Program of Study (Specific Details)
Note: do not use this program of study for self-advising. Contact the Program Director to obtain a custom program of study.
---
Workforce Model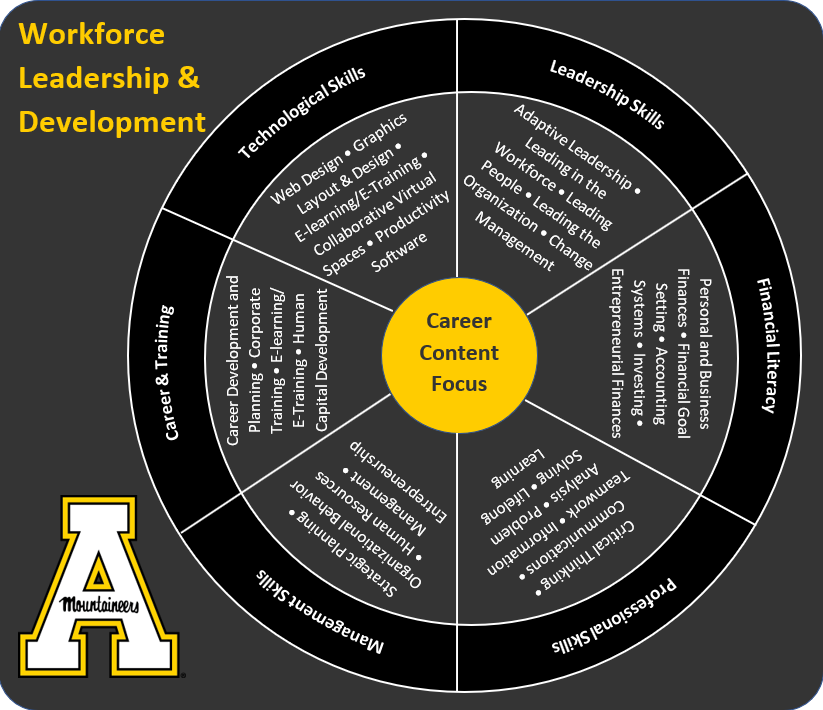 Career Opportunities
Possible Career Opportunites (not a comprehensive list) - Career pathways are directly influenced by the student's career content focus:
Entrepreneur
Career Facilitator/Manager/Specialist
Workforce Specialist (working for the state workforce organizations or private organizations)
Former Offender Specialist
Agricultural Employment Specialist
Apprenticeship Specialist
Career Counselor or Career Advisor
Corporate Curriculum Specialist
Product trainer/education specialist
Business Services Representative
Workforce Education Director
Workforce Education Cooperative Education
Workforce Education Teacher in Middle and High Schools
Teacher in Career and Technical Education Centers
Government Training Programs
Business Training Programs
Industry Training Programs
Adult and Continuing Education Programs
Professional Development Consultant
Organizational Development Specialist/Consultant
Instructional Coordinator
Community College Instructor
Military Development
Information Video
Review the informational video on the Workforce Program on YouTube